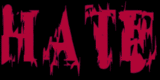 I am one of the women involved in a horrible and hateful attack, which occurred on Oct. 31 around 5pm on the corner of Fruitvale in Oakland, underneath the 580 freeway in the parking lot there.
The motive was hate… against me, an opposer to Proposition 8 and a Latina lesbian. I had just gotten off of work from that same block, crossed the street to get to my car and had to pass by a crowd of Samoan or Pacific Islander women, who seemed to be family and part of some church. There were about 8-12 of them, including 2 children. Everyday around 3pm, they get dropped off by what seems to be a church van. They were shouting at the top of their lungs, in support of Prop.8. and screaming at cars, urging them to run us, 3-4 women over.

Making my way to my car, I asked them a question… How can you call yourself religious when you are inflamed with hate?
We exchanged some verbal disagreement and this escalated to an unbelievable extent and then I was told I would burn in hell and that I was jealous that I couldn't get married because I don't have a d*ck. After getting in my car, one of them, a pregnant woman, hit my car with her sign. I stepped out to look at the damage and found that she was still standing there waiting for my reaction. I guess she thought I was going to hit her, but I didn't get a chance because before I knew it, she had lunged at me with all her might and her family joined in on the fun. As I was pinned up against my car, with 4-5 women taking swings at me, pulling my hair, biting me, yes biting me like a dog with rabies, a woman came to my rescue. She was a prop 8 opposer and total stranger to me. She made her way between these women and shielded me with her own body. If you are out there, many thanks, I owe you my life! You are truly an angel!
Unfortunately, they yanked her off and beat her as well, while she was on the floor.
They finally stopped after one of their own begged them to stop, because they sure didn't listen to my plea to let me go. Two of the 4-5 were arrested because I couldn't identify the rest of them since my head was down most of the time. I suffered chipped teeth, scratches and bruises on my head, face, and arms, and one nasty bite on my hand which I did get tested for rabies!
Two things that bothered me the most were that, one, after they were done they went right back to their corner and held up their signs as if nothing had happened and two, this happened in the presence of 2 minors, a boy and a girl between the ages of 10 to 13. It's alarming to see what kind of example their family is setting for them and how they are promoting violence to resolve differences of opinions. Hmm, but they are scarred to "supposedly" talk about gay marriage in school? (Which isn't part of the proposition anyways)??!!
To set the record straight, this all happened because of hatred and ignorance from a group of people who don't understand that no matter how you feel about prop. 8, promoting violence and hate, while pretending to defend the sanctity of marriage through whatever religion they belong to, seems, I don't know, contradictory and hypocritical… but hey that's just me! These people acted more like animals, with no shame and no remorse. Vote no on Prop. 8! Don't support this type of hatred…
I would love to chat with any others that have any similar stories in this neighborhood or sustained the same type of violence, or have any legal advice, we should join forces.
Please spread the word to all of your social circles and lets all come together and prevent this from happening again. I am pressing charges and will be prosecuting to the fullest extent of the law. So if you know any lawyers, I don't have much money, but I know this is a strong case because it is a hate crime. Please feel free to email me at queca98@aim.com. They don't know it yet… but they barked up the wrong tree.
With much appreciation in advance…
In Solidarity,
Francesca